Discover Ottawa and the region as you've never seen it before through the pages of Ottawa Road Trips: Your 100 km Getaway Guide by travel writer Laura Byrne Paquet
Delve into Ottawa's golden years of movie theatres with screenwriter, movie lover, and memoirist Dan Lalande.
SPRINGTIME READING IS FINE...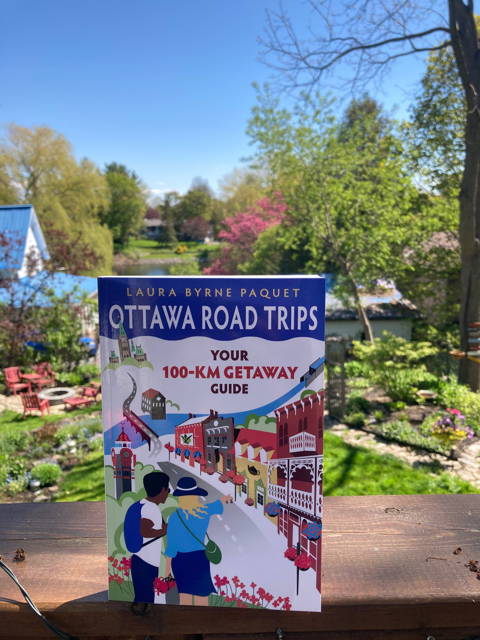 Ottawa Press and Publishing began five years ago with a simple idea — publish local books.
I'm not sure if three words qualify as a business plan, but that's what I had.
I came up with the plan because I enjoy being a regional publisher. Everyone on the OPP team feels the same way. We believe there are good books in this world. And then there are good books that tell you something about your neighbourhood, your neighbours, the history of that river over the hill – and those are great books.
Our spring titles will start to appear in bookstores soon (we hope once the lockdown is over) and with that will be possible book signings and other author events.
In the mean time, you can order our new titles right here!
Laura Byrne Paquet, an Ottawa-based author and local travel writer has written perhaps the definitive guide to day-tripping around Ottawa. If you can't wait to get outside and enjoy our warmer weather and longer daylight hours after a year of lock-downs and quarantines, then you're going to want pick up ROAD TRIPS: YOUR 100-KM GETAWAY GUIDE.
Dan Lalande, a local writer who's written for numerous TV shows including The Racoons and You Can't Do That on Television, as well as feature films starring Eli Wallach, and Pat Morita, has written a memoir about growing up in Ottawa and watching some of the best movies of all time in the heydays of Ottawa theatres. If you still miss the Somerset and are bemoaning the death of the Bytowne Cinema on Rideau St., you'll love REEL OTTAWA.
Both of these books are on sale right now, right here on our website.
And we're getting ready to launch four new mystery titles in our brand new OTTAWA PRESS AND PUBLISHING MYSTERY IMPRINT! More details soon!
For now, though, I'd just like to thank you for visiting the OPP site, reading local, and letting us continue to get away with a three-word business plan.
Ron Corbett,
Publisher
Ottawa Press and Publishing
SPREAD THE WORD ABOUT OTTAWA PRESS AND PUBLISHING!